Braces
Orthodontics (Dental Braces)
It's never too late to look and feel your best and tackle problems like crooked teeth, spaces between the teeth, or teeth that stick out and which can decrease your self-confidence.
Although most adults seek orthodontics for cosmetic reasons, many also seek treatment because of jaw dysfunction, excessive wearing of teeth and gum or hygiene problems.
Our approach is to concentrate on straightening teeth and on achieving harmony for your teeth, jaws and face. By focusing on the bigger picture, we achieve straight teeth, a healthy function of the jaw joints, a more pleasing appearance and long lasting results.
There are several types of braces, both fixed or removable, and at London Smiling we work with you to choose the best solution to straighten your teeth: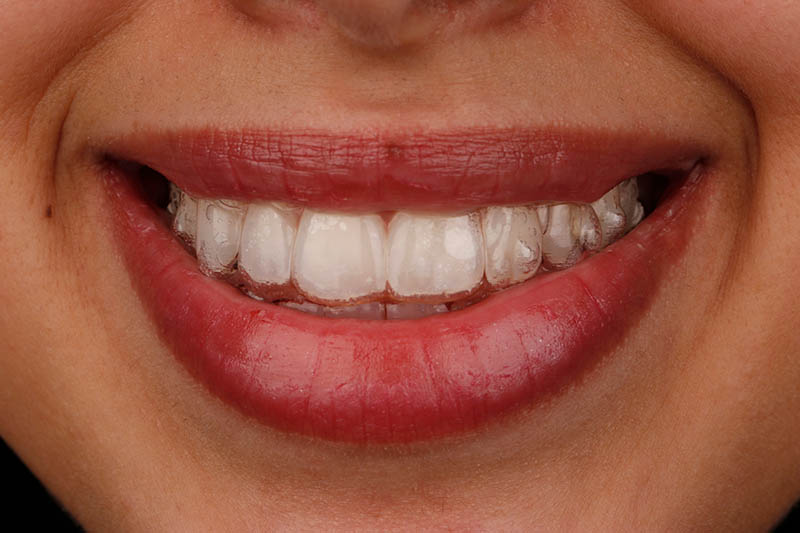 These are often referred to as the ultimate cosmetic brace. Invisalign is a revolutionary new way for teeth straightening without braces by using a series of nearly undetectable aligners instead of wires and brackets. The clear aligners move your teeth week by week, millimetre by millimetre, to the desired position.
Using 3D computer technology, each of your Invisalign aligners is made to sit snugly over your teeth and, unlike normal braces, can be removed for eating, brushing and flossing.
How long does the procedure take?
The process takes anywhere from six to eighteen months.
How long does it last?
The outcome is usually permanent. Adults need to wear braces for a longer duration than children, and they almost always need a permanent nighttime retainer to hold the new positioning. If there is any concern that your teeth could possibly regress, a cosmetic dentist can attach (bond) a fine wire retainer onto your teeth to ensure that they do not move later on in life.
Fixed Tooth Coloured Braces
These are the most common type of braces and used to be known as 'train tracks'. Traditionally they were made of metal but we now have ceramic and clear brackets available so they are less noticeable.
These are totally invisible as they are bonded to the inner surface of your teeth. We use the latest CAD/CAM technology (computer-aided design/computer-aided manufacturing technology) to make these as accurate and effective as possible.
The Inman Aligner is a unique way of straightening teeth. It uses nickel titanium technology to very gently but efficiently move teeth. It takes considerably less time than other types of orthodontic appliances – sometimes as little as 4 weeks.
How does it work?
The Inman Aligner utilises a lingual coil spring that puts pressure on the back of the teeth that need repositioning and a wire across the front of the teeth that reverses the same pressure. These components work jointly to "squeeze" teeth together by pushing and pulling them into alignment. To be effective, it must be worn between 16 to 20 hours a day.

Is the Inman Aligner comparable to Invisalign invisible braces?
Invisalign is very different from the Inman Aligner and treatment is generally slower. The Inman Aligner is used for treating the front teeth only and is not suitable for the alignment of back teeth. Invisalign can treat your whole arch (including back teeth). When the back teeth need treatment because, for example, the arch width is too narrow, we can use a pre-treatment to expand the arches and then follow this with the Inman Aligner.
Will it hurt?
Due to the gentle but steady forces generated by the Inman Aligner, it is rare to suffer any discomfort.

Will the Inman Aligner affect my speech?
The Inman Aligner will affect your speech for a week to ten days. You will however acclimate to the appliance over time and be able to speak as usual with them in place. It may cause you to salivate more than you ordinarily do for about 2 days.